Blessingsonthenet Features More Than 600 Festival, Fairs, Fast, State Festivals, Regional Festivals, Festival Recipes, Temple Festival,Festival Gallery (Audio, Video,Photo Gallery) of India.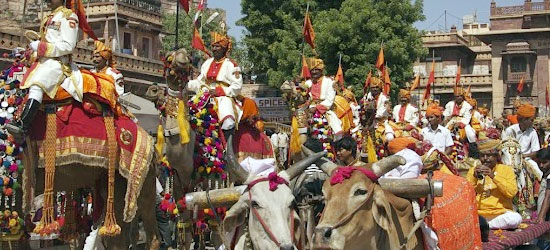 The Marwar Festival is celebrated in the Sun City of Jodhpur, Rajasthan. A two days long event, it takes place in the Hindu month of Ashwin (September-October), during the full moon of Sharad Poornima. The Marwar Festival of Jodhpur is mainly dedicated to the folk heroes of Rajasthan.
Marwar festival devoted mainly to the music and dance of the marwar region. The festival was originally known as the 'Maand festival'. Held for two days on full moon-sharad purnima, folk artists bring to life the myth, legend and folklore of the area.
Activities
The massive Mehrangarh fort and the impressive Umaid Bhawan Palace which are symbols of might and valour of the Rajputs, make Jodhpur an ideal location for the festival. It was originally known as the 'Maand Festival', a classical style of folk music centred on the romantic lifestyle of Rajasthan's rulers. The festival is held for two days during the full moon of Sharad Purnima.
The Marwar festival displays the music and dance of the Marwar region. The spirited folk dancers gathered here, perform with zest and entertain the audience with Rajasthani folklore. These folk artistes bring to life the myth and legends of the area and sing songs in memory of the brave heroes.
Other attractions of the festival include horse riding and horse polo. Various other competitions are also held during the festival.
History
Once the capital of the Marwar state , it was founded in 1459 A.D. by Rao Jodha-chief of the Rathore clan of Rajputs who claimed to be descendants of Rama - the epic hero of Ramayana.The massive 15th century A.D. Mehrangarh Fort looms on the top of a rocky hill, soaring 125 Mts. Above the plains. The city is encompassed by a high wall -10 km long with 8 gates and innumerable bastions.
A major trade centre of the 16th century A.D. the fortress-city of Jodhpur is now the second largest city of Rajasthan.