Blessingsonthenet Features More Than 600 Festival, Fairs, Fast, State Festivals, Regional Festivals, Festival Recipes, Temple Festival,Festival Gallery (Audio, Video,Photo Gallery) of India.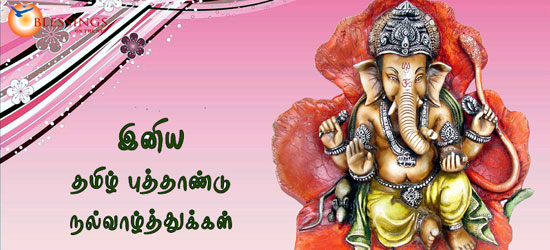 The Varushapirapu is the Tamil New Year, it is a time for celebrating new and prosperous beginnings. The 13th of April is the beginning of the first month Chittirai of the Tamil year , which is celebrated as the New Year and is also known as "Chittirai Vishu". Varusham is the Tamil word for "year" and 'Pirapu' can be translated as the "birth" or "beginning" or "commencement" of an event.

The month of Chitthirai has arrived and with it the Tamil New Year's Day; April 14th which is supposedly the day when Lord Brahma (The Creator of the world, according to Hindu mythology) started creation.
The day starts with viewing the 'kanni' (the auspicious sight) at dawn, in the expectation that beginning the New Year by looking at auspicious or favourable things will bring good fortune throughout the year. The auspicious things include, gold and silver jewellery, betel leaves, nuts, fruits and vegetables, flowers, raw rice and coconuts. This is followed by the ritual bath and a visit to the temple to pray for a prosperous and happy New Year. After which, the Panchangam (almanac) is read. The ladies adorn the entrances of their houses with 'Kolam' (design made with rice flour) and deck the doorway with mango leaves.
April 14th also happens to be the Bengali New Year Day, Naba Barsha, which begins with the 'Prabhat Pheries' (an early morning procession) with songs and dances welcoming the New Year. In Kerala 'Vishu' is celebrated by Malayalees commemorating the beginning of the astronomical New Year in the Malayalam Calendar.
Send Tamil New Year Greetings