Blessingsonthenet Features More Than 600 Festival, Fairs, Fast, State Festivals, Regional Festivals, Festival Recipes, Temple Festival,Festival Gallery (Audio, Video,Photo Gallery) of India.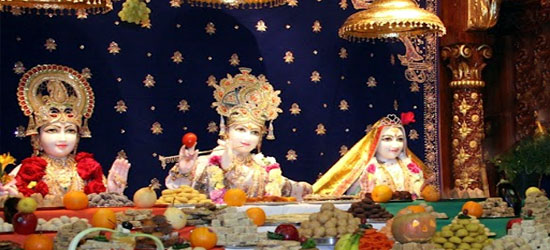 Annakoot is celebrated in observance of the episode in Sri Krishna's childhood, in which He gave protection to the cowherd clan of Vrindavan from the wrath of Indra and humbled Indra in that process. The cowherds, their wives, children and cattle jubilantly surrounded Sri Krishna. They were awed by His superhuman accomplishment and celebrated Sri Krishna's feat with a sumptuous feast. Thus began the tradition of Annakoot.
After lifting of the huge Sri Goverdhan Parvat for continuous seven days prior to Diwali, the Lord put it back on earth & asked the citizens to worship the mountain. Sri Krishanji, then appeared in two forms. One as Sri Goverdhan hillock itself, i.e., deity to be worshiped and as second as resident to offer food to Him.
After the prayers, traditional worship & Aarti, innumerable varieties of delicious sweets/ all cookings / 56 bhogs were ceremoniously raised in the form of a mountain before the deity as "Bhog" and after Lord had it full , now it was citizens turn to approach the Mountain of Food and take Prasad from it. It was a Great Feast for residents of Goverdhan & they all enjoyed it thoroughly .
Thus on annakoot day, the devotees offer their gratitude to Lord Krishna for his blessings in making their lives complete. In temples, on this day, the deities are given milk baths, dressed in shining attires with ornaments of dazzling diamonds, pearls, rubies and other precious stones. After the prayers and traditional worship innumerable varieties of delicious sweets are ceremoniously raised in the form of a mountain before the deities as an offering