Blessingsonthenet Features More Than 600 Festival, Fairs, Fast, State Festivals, Regional Festivals, Festival Recipes, Temple Festival,Festival Gallery (Audio, Video,Photo Gallery) of India.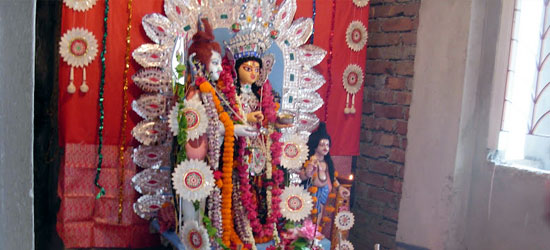 Annapurna Puja is dedicated to Goddess Annapurna and is a major ritual in eastern parts of India, especially in West Bengal. Anna' means foods and grains. 'Purna' means full, absolute and perfect. Annapurna is respected, supreme goddess, who is complete and perfect in food and grains. She is the representation for the one who grants sustenance on every level.
Goddesses Annapurna is the supreme goddess of Kasi. Actually 'Ka' means the reason, 'a' means the manifestation of consciousness, 'sa' means tranquility and 'i' is the casual body. Kasi is the place which causesconsciousness to manifest the highest peace of the casual body. Even lord Shiva begged alms from Goddesses annapurna. Annapurna is the dearly loved energy of Lord Shiva, for the achievement of perfection in knowledge and renunciation. The aspect of Parvati who grants nourishment is called Annapurna.She is the potency or force of life of Shiva, the beloved energy. He is incomplete without her.For the attainment of perfection in wisdom and renunciation Shiva wants her nourishment that is her endowment to us all. Her understanding teaches us that mysticism is about giving. The renunciation she teaches allows us to be in equability in every situations of life.
Celestial Mother Annapurna nurtures us each day by giving us food for our bodies as well as sustaining our breathing and our lives in so many ways. We have to thank her for that entire she has given us in the earlier period and persists to do so in the current and will do, if it be her will in the future. It is a gorgeous gift to have the blessings of the mother, so have to thank Divine Mother from our heart.

In the Annapurna stotram there is 1000 names of Annapurna Devi, which are chanted at the time of 'Annapurna puja', which reverberates with different sounds. At the time of puja overjoyed children install the idol, women full of activity with 'puja' preparations to men shouting instructions to workers set up pandals. And, the shiny eyes of all replicate the sense of being part of a big incident. It is mainly the puja of the women, because every woman is the 'annapurna' in their own family. And the divine goddess put her blessings and potential to them as they can carry on their family with full vitality