Blessingsonthenet Features More Than 600 Festival, Fairs, Fast, State Festivals, Regional Festivals, Festival Recipes, Temple Festival,Festival Gallery (Audio, Video,Photo Gallery) of India.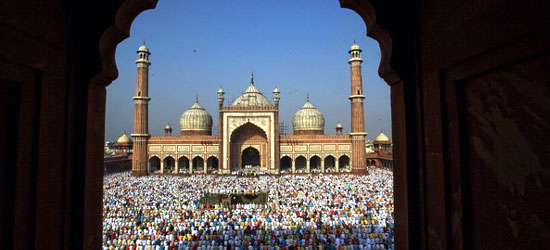 Eid-ul-Fittr is celebrated in the month of January and marks the end of Ramazan (Ramadan), the Muslim time of fasting. It is an occasion of feasting and rejoicing. Prayers are held in mosques and people and relatives meet to exchange greetings. Idi or presents are given to youngsters by the family elders.Legend says that the Qur'an was revealed to Prophet Mohammed in the last ten days of Ramadan.
The month of Ramadan is historically associated with two important victories of Prophet Muhammad - the battle of Badr and the conquest of Makkah. Fasting during the month of Ramadan, according to Islamic beliefs, helps in developing self-control and is a way of getting closer to Allah. The festival of Eid ul Fitr marks the beginning of celebrations and merriment for a period extending over three days. Women prepare sweets at home and all Muslims are seen adorned with new dresses on this day. Eid ul Fitr is synonymous with joy and thanksgiving. Such is the spirit of this great festival that even a lot of Non-Muslims participate in Eid celebrations in India.