Blessingsonthenet Features More Than 600 Festival, Fairs, Fast, State Festivals, Regional Festivals, Festival Recipes, Temple Festival,Festival Gallery (Audio, Video,Photo Gallery) of India.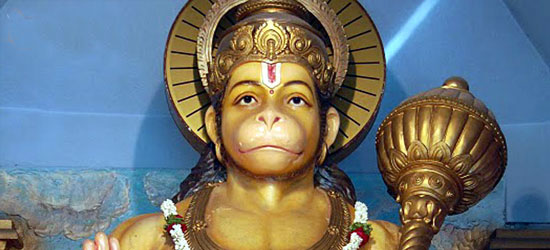 Hanuman Jayanti is celebrated to commemorate the birth of Hanuman Ji, the monkey god widely venerated throughout India. It is celebrated during the month of Chaitra and is especially important to Brahmacharis, wrestlers and bodybuilders. Hanuman was an ardent devotee of Rama, and is worshipped for his unflinching devotion to the god. On the eve of Hanuman Jayanti from the early morning, devotees flock Hanuman temples to worship the monkey god.
Hanuman Jayanti is an important festival. Hanuman is the symbol of strength and energy. Hanuman is said to be able to assume any form at will, wield rocks, move mountains, dart through the air, seize the clouds and rival Vishnu's bird, Garuda in swiftness off light. He is worshipped in folk tradition as a deity with magical powers and the ability to conquer evil spirits.
The hanuman devotees visit temples and apply tilak of sindhoor to their foreheads from the Hanumans body as this is considered to be good luck. According to the legend Sita was applying sindhoor to her head, Hanumans Ji questioned why and replied that this would ensure a long life for her husband. Hanuman then smeared his entire body with sindhoor, in an effort to ensure Rama's immortality .
How To Observe Hanuman Jayanti Fast
Hanuman Jayanti Vrat, also known as Hanuman Jayanti Upvaas, is observed on the Chaitra Purnima day, that is, a full moon day in the Chaitra month of the Hindu calendar. While in Maharashtra and other western parts of India, Hanuman Jayanti Vrat is observed on the day prior to Hanuman Jayanti, people in North India fast on the actual Hanuman Jayanti day. Unlike most Hindu fasts and vrats that are practiced by women, Hanuman Jayanti Vrat is observed mostly by men, particularly the wrestlers and body builders. Preparations for the festival and fast begin early in the morning. Homes are thoroughly cleaned and idols, body or pictures of Lord Hanuman are purified. These are then smeared with Sindoor and a lamp is lit next.
Prayers are chanted and sweets and bananas are offered. Devotees recite the Hanuman Chalisa. Depending upon the caliber of a devotee, the Chalisa is repeated several times. The recitation of Hanuman Arati, or Aarti Bajrangbali Ki, marks the end of the prayers. People who opt for observing vrat or upvaas on Hanuman Jayanti keep it from sunrise to sunset. However, people who observe a partial fast consume fruits and milk, with some exceptions of eating Sabudana Kihichdi. The fast is broken by offering puja in the evening or visiting a Hanuman Temple in the neighborhood. However, there are devotees who end their fast only on the next day in the morning.
Send Hanuman Jayanti Greetings