Blessingsonthenet Features More Than 600 Festival, Fairs, Fast, State Festivals, Regional Festivals, Festival Recipes, Temple Festival,Festival Gallery (Audio, Video,Photo Gallery) of India.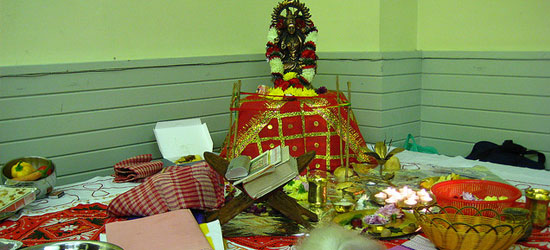 The third day of Diwali festival is the new moon night or amavasya of the month of Ashvin, known as Laxmipujan, or the main Diwali, dedicated to Goddess Laxmi. On this day Goddess Laxmi emerged from the ocean of milk called the ksheer sagar. She brought with her wealth and prosperity for mankind. This emergence of Goddess Laxmi is celebrated with great pomp and grandeur. Many people believe that the Goddess of wealth and good fortune visits the homes of devotees on this day after sunset. Many people perform the puja at the stroke of midnight! Therefore lots of diyas (clay lamps) are lit to overcome the darkness of the moonless night. Houses are decorated with
flowers. These days decorating the house with coloured electric lamps has become very popular. The whole idea is to illuminate the entire house. Goddess Laxmi is then worshipped with reverence. Women of the household place their gold ornaments before the Goddess with prayers for prosperity through the coming year. The main entrance door of the houses is symbolically kept open so that when Goddess Laxmi does visit, she can come straight in. Shopkeepers and merchants worship their new account books for the ensuing year. In Gujarat this is called chopdipujan. A wide variety of sweets are distributed. In some communities there is a practice of exchanging thalis filled with sweets and savoury snacks with friends and neighbours Jubilant children and adults burst firecrackers alike. These days many sophisticated fireworks are available which light up the sky. Besides bursting firecrackers individually, community fireworks are also in vogue where the entire community gathers on a big open ground and some professionals do the fireworks display in a grand manner.

Lord Ganesha, the elephant-headed god, the symbol of auspiciousness and wisdom, is also worshipped in most Hindu homes on this day
According to another version this festival commemorates Lord Rama's return to his kingdom Ayodhya on the completion of his 14-year exile after killing the demon king Ravan along with most of his demons. Lord Rama had fought this battle along with his brother Lakshman helped by the vanar sena (army of monkeys) ably headed by their king Sugriva and Hanuman who became Lord Rama's most ardent and eternal devotee. This battle was fought to free Lord Rama's wife Sita who had been abducted by Ravan. To celebrate their return, the people of Ayodhya lit up their houses and burst crackers. Thousands of years have passed since, yet the glory of the revered Ram Rajya (rule of Lord Rama) is remembered to this day with twinkling oil lamps or diyas lighting up every home and firework displays throughout the country.

A most surprising custom, which characterises the festival of Diwali, is gambling, especially in North India. People indulge in it on a large scale and gamble through the night! It is believed that on this amavasya night Goddess Parvati played dice with her husband. Lord Shiva and she announced that whosoever gambled on Diwali night would prosper throughout the coming year
In Bengal, the people celebrate Kali Puja, which marks the worship of Goddess Kali, the consort of Shiva. The Bengalis perform Kali Puja on Diwali, as it is believed that on this day Kali killed the wicked demon Raktabeeja. Lord Brahma had granted a boon to Raktabeeja that each drop of his blood that would fall on the earth would produce a thousand more demons like him. So the only way to ensure that no more wicked demons were produced, the Goddess held his head high over her mouth after beheading him and drank all his blood so that not a drop would fall on the earth. That is the reason the Goddess is always depicted with her bright red tongue dipped in blood hanging out. As Goddess Kali is associated with dark rites and devil worship, the rituals performed are austere and offered with great devotion.

The other significance of this new moon day are that Lord Krishna discarded his body and Lord Mahavir also attained nirvana on this auspicious day.