Blessingsonthenet Features More Than 600 Festival, Fairs, Fast, State Festivals, Regional Festivals, Festival Recipes, Temple Festival,Festival Gallery (Audio, Video,Photo Gallery) of India.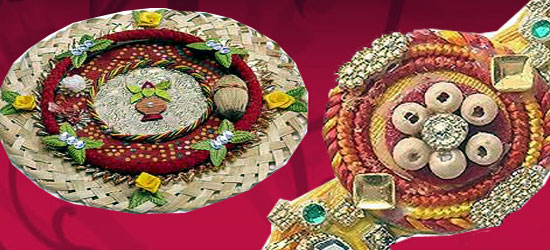 Raksha Bandhan is celebrated in the month of Shravan on the full moon night. The festival of Raksha Bandhan symbolizes love affection and feeling of brotherhood. "Raksha" means protection, and "Bandhan" means bond, therefore, when a sister ties a Rakhi around the wrist of her brother, she signifies her loving attachment to him. The brother extends his wrist forward signifying an extending hand of protection. Raksha Bandhan is also known as Rakhi. Read Festive Features to know more about this festival.
Yena baddho Balee raajaa daanavendro mahaabalah |
Tena twaam anubadhnaami rakshe maa chala maa chala || "
It means, "I am tying a Raksha to you, similar to the one tied to Bali, the powerful king of the demons. Oh Raksha, be firm, do not waver." The sister chants this Sanskrit shloka while tying the rakhi on her brother's wrist. Thus the feeling of devotion and loyalty is associated with this festival. Raksha Bandhan holds special significance for the Hindus and is celebrated in almost all the states of India.
Send Raksha Bandhan Greetings