Blessingsonthenet Features More Than 600 Festival, Fairs, Fast, State Festivals, Regional Festivals, Festival Recipes, Temple Festival,Festival Gallery (Audio, Video,Photo Gallery) of India.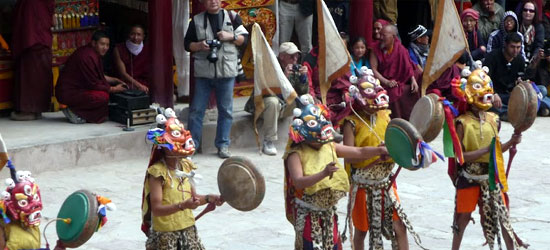 The courtyard of Hemis Gompa-the biggest Buddhist monastery in Ladakh is the stage for the famous 'Hemis' festival that celebrates the birth anniversary of Guru Padmasambhava. The colourful two-day pageant falls on the 10th day (Tse-Chu) of the Tibetan lunar month. The local people are seen dressed up in their finest traditional garb for the occasion. Lamas called 'chhams' perform splendid masked dances and sacred plays to the accompaniment of cymbals, drums and long horns. The head lama presides over the function. The festival takes an auspicious turn every 12 years in the Tibetan Year of the Monkey, when the two-storey high 'Thanka' depicting Padmasambhava is displayed. This famous 'Thanka', richly embroidered with pearls . A colourful fair, displaying some beautiful handicrafts, is the special highlight of the festival.
Hemis Monastery. 40 km from Leh, it is the wealthiest, best-known and biggest gompa of Ladakh. Its popularity stems from the major annual festival held here in summer. The festival is in honour of Guru Padma Sambhav's birth anniversary. It also has the largest Thangkha in Ladakh, which is unfurled, once in 12 years (next in 2004) Hemis was built in 1630 during the reign of Sengge Namgyal, an illustrious ruler of Ladakh. It flourished under the Namgyal dynasty for the royalty favoured the Drugpa sect, which managed the monastery.
It is divided into two, the assembly hall on the right and the main temple on the left. The hall Dukhang is also used as "green room" by the dancers during the festival. The temple is known as Tshogkhang. The varandahs have a surfeit of frescoes, among them the Buddhist 'wheel of life' (Kalachakra) and the lords of the four quarters, besides the prayer wheel.
Splendid masked dances are performed to the accompaniment of cymbals, drums & long horns. A colorful fair, displaying some beautiful handicrafts, is the special highlight of the festival.
More on Hemis Festival Ladakh