Blessingsonthenet Features More Than 600 Festival, Fairs, Fast, State Festivals, Regional Festivals, Festival Recipes, Temple Festival,Festival Gallery (Audio, Video,Photo Gallery) of India.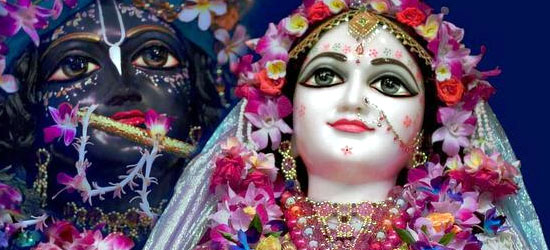 The eighth day of the moon is always Shakti's own day and so is the ninth. Radha Ashtami is celebrated on the eighth day of the dark fortnight of Bhadra (August-September) On this tithi Radha was born. She was an incarnation of Laxmi and is worshipped accordingly.
Radha, the favourite and consort and mate of Krishna, is also a symbol of human soul drawn to the ineffable god, Krishna. She also stands for pure divine love to which all fickle love returns.
On this day after early morning ablutions, the image of Radha is bathed in Panchamrita and then richly adorned and ornamented before offering food and worship. Fast is kept on this day and prasad distributed.
Vaishnava tradition states that Radharani appeared in either Barsana or Rawal, a village about 8 kms from Vrindavan. Her father was the king of cowherds called Vrsabhanu and Her mother's name was Kalavati. Her worship is especially prominent in Vrindavan, the place where Krishna had His pastimes 5000 years ago.
On Her festival day, devotees seeking Krishna's grace will especially ask Her to grant them devotion to Her beloved Lord, knowing that if they can attain Her favour, they can attain Krishna's grace.