Blessingsonthenet Features More Than 600 Festival, Fairs, Fast, State Festivals, Regional Festivals, Festival Recipes, Temple Festival,Festival Gallery (Audio, Video,Photo Gallery) of India.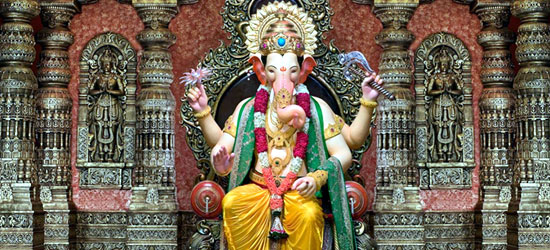 Vakrathunda Mahakaaya Sooryakoti Samaprabha
Nirvighnam Kurumedeva Sarvakaaryeshu Sarvadaa"
You of the twisted trunk and the massive body with the dazzle and light of millions of Suns Lead me on a path that has no obstacles clearing the way in all that I do, and always .
According to the Puranas, it is believed that even the gods worshiped Lord Ganesha. For instance Lord Brahma worshipped him before creation, Lord Vishnu before vanquishing Bali, Lord Shiva before destroying the three cities of Tripura, Durga before annihilating Mahishasura and the legends go on. No wonder, Lord Ganesha is considered as the auspicious beginning and is worshipped before we embark on any new endeavour.Ganesh Chaturthi is celebrated with great fervor. The adorable Lord Ganesha, with his elephant head and huge belly is amenable to novel designs. The deft hands of the artsans mould Instances from epics or the current situation becomes the theme for the Ganpati Pandals. Join us in a virtual journey of the elaborately done Ganesha Pandals and the colossal Ganesha Statues.
The celebration for this festival begins on Bhadrapad Shukla Chaturthi and continues for ten days till Ananta Chaturthi. Though celebrated in all parts of the country, the festival has great prominence in Maharashtra. Exhilarated cries of Ganapati Bappa Morya, bhajans dedicated to Lord Ganesha, decorated pandals and huge processions of devotees characterize the celebrations of this festival.
Ganesh Chaturthi is celebrated all over India, but the maximum grandeur is witnessed at Maharashtra. This festival witnesses various cultural events, which bring the public together and enhance the sense of belongingness and togetherness. The celebration ends with the immersion of the Lord Ganesha's idol into the water. Huge processions of people carry the idol to a river, lake or ocean, accompanied by the chant of Ganapati Bappa Morya. Ganesh Chaturthi is the significant festival of Maharashtra, Karnataka, Gujarat and Rajasthan.
Send Ganesh Chaturthi Greetings
Ganesh Chaturthi in India