Blessingsonthenet Features More Than 600 Festival, Fairs, Fast, State Festivals, Regional Festivals, Festival Recipes, Temple Festival,Festival Gallery (Audio, Video,Photo Gallery) of India.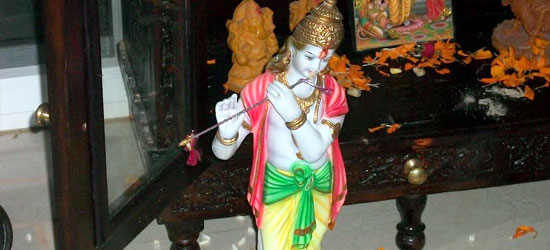 Govardhan Puja is dedicated to the Govardan Mountain near Mathura, which was lifted by Lord Krishna to save the people of Braj from heavy rains and flood created by Lord Indra. Apart from worship of Lord Krishna and Govardhan Mountain, people perform Govardhan Parikrama, circumambulating the hill. It is an important event on the day.
The festival of Govardhan Puja is also known as Annakut, as the food offered by devotees is so much that it takes the form of a mountain.
Legend of Goverdhan Puja :
Govardhan is a hillock in the vicinity of Gokul, where Krishna spent his childhood. This worship was previously in honour of king of gods Indra, because it was believed that by rainfall, Indra awarded them good crops and thereby Indra was their bread giver. The maidens used to gather at the base of the Govardhan hill, sing, dance and offered sweets and food, to Indra. He stressed that it was not Indra, who gave them rain and good crops, but it was Govardhan hill which gave them these tributes, so Govardhan hill should be worshipped and the hill will accept their food and sweets, instead of Indira, who never consumed their oblation. Then Krishna by virtue of his divine powers, consumed all the food. The devotees were pleased and since then worship of Govardhan commenced replacing worship of Indra.
The wandering priest of gods, Narad came by, saw Govardhan Puja and flew back to Indra lok and instigated Indra against Govardhan worship. Enraged Indra gave orders for continuous heavy rainfall on Govardhan and Gokul. During seven days of intense rainfall residents of Gokul raised hue and cry and went to Krishna seeking advice. Krishna advised them all to go to the base of Goverdhan. Then the lord lifted Govardhan on a little finger of his hand and thereby by provided shelter to all residents. Indra was surprised at his defeat, sought advice from Brahma, who exposed that Krishna was none other than an incarnation of Vishnu god. Indra realized his mistake and begged pardon.
Another legend describes that when lord Rama wished to cross the sea to invade Sri Lanka, he said that a very big boulder should be put in the sea first to make the bridge. Hanuman was asked to bring such aboulder from the Himalayas. Hanuman set forth and put in all his might to lift a big boulder, but he failed. Then he heard a voice, which seemed to come from that boulder, It said, ``I can lighten my weight, if you make me a promise to allow me to worship Lord Rama''. Hanuman agreed and the boulder could be lifted. On the way, when Hanuman was near Mathura-Gokul, he heard the voice of Jamvan (worthy bear minister) that the bridge was ready and no boulder was required. So Hanuman put the boulder at the spot where Govardhan hillock exists at present, when he was about to move the boulder cried, ``you have left me of no avail. I came with you with a promise. You have ditched me by not even having a glimpse of Rama.'' Hanuman explained his problem to lord Ram. Ram said that in his next incarnation in Dwapar Yuga, he would appear as Krishna in Gokul -Vrindaban region and then he would relieve Goverdhan from the anger of Indra, its master and that he would himself lift the boulder (Goverdhan parvat Hillock). Goverdhan puja initiated with the lifting of the hillock by Krishna.
Since then Govardhan worship is done by the residents of Gokul, and the Braj region and by devotees from far of places who circumambulate the hillock, once a year and worship Krishna avtar. This worship is also called ``Annakoot'' i.e. food hilltop.
Send Govardhan Puja Greetings