Blessingsonthenet Features More Than 600 Festival, Fairs, Fast, State Festivals, Regional Festivals, Festival Recipes, Temple Festival,Festival Gallery (Audio, Video,Photo Gallery) of India.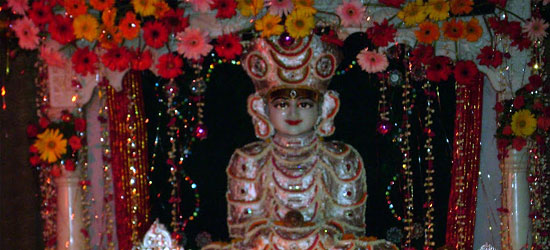 Paryushan Parva is a Jain festival, and is celebrated by both the Svetamber and the Digambar sects in the month of Bhadra (August-September).
The Svetambar Jains start observing it from the thirteenth day of dark half(krishna paksh) of the month to the fifth day of these bright half(shukl paksh).The fast lasts for eight days.
The Digambar (the sky-clad) Jains begin to observe it from the fifth day of the bright half of Bhadra and terminate it after eight days on the 13th lunar day.
This festival signifies a man's emergence into a New World of spiritual and moral refinement from that of gross and depraved world.
The ten cardinal virtues cultivated during this festival are: forgiveness, charity, simplicity, contentment, truthfulness, self-restraint, fasting, detachment, humility and continence.
During the festival all the above ten virtues are lectured upon by the Jain saints and their cultivation stressed upon.
During all the days of the celebration, the devout Jains keep fast, eat only once in a day, worship the Tirthankaras, and try to imbibe the qualities and virtues of great Jain saints and preachers. This is also the occasion of self-analysis and criticism and to do away with ones own shortcomings, etc. The Jains ask for one another's forgiveness during this festival for an offence done knowingly or unknowingly. Thus, it also helps in restoring lost relations and friendship.