Blessingsonthenet Features More Than 600 Festival, Fairs, Fast, State Festivals, Regional Festivals, Festival Recipes, Temple Festival,Festival Gallery (Audio, Video,Photo Gallery) of India.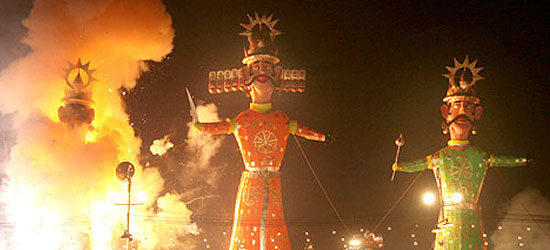 Dusshera also known as Vijayadashmi and is one of the main festival of Hindus. The zest and fervour of its celebration can be seen in entire India. This festival is celebrated in every nook and corner of India with full zeal and enthusiasm.In some parts of India Navratri celebrations culminates in Vijayadashami while in the others the celebration of Dussehra takes the precedence.Indian mythology may have several legends to justify both the beliefs but the underlying principle remains the same, the victory of the all pervading good over evil. Ravana or Mahishasura, both are symbolic of ignorance and egotism. The truth certainly comes out clear that however inscrutable the evil maybe, it will certainly be overwpowered. Dussehra is thus the celebration of this eternal truth.
Dusshehra 2012
Vijayadashmi is celebrated on the tenth day of Shukla Paksha of Ashwin month. In 2012, this festival will be celebrated on 24th October,Wednesday. Dussehra is a celebration of victory of good over evil. Evil and immorality comes to an end establishing morality and peace. It is a form of Shri Ram's glory. On this day, everyone gets immersed in the devotion of lord Rama.
To celebrate Vijadashmi, Ramlila is staged in every corner of India. Kshatriyas worship their weapons and sight of Neelkantha is considered to be very auspicious. Dusshera is celebrated after the Navratra on the 10th day of the Navratra.
Ritual to perform Dusshera Pooja
Ravana is worshipped in the morning of Dussehra and everyone performs the ritual before eating anything. All the members of the family should take bath early in the morning, wear clean clothes and get ready to sit in Pooja. Then, prepare 10 balls i.e Kanda from the cow's dung and apply curd on each of them.
Barley is grown on the first day Navratra. This plant is then kept on the Kand and then the god is worshipped with Dhoop, Diya, Rice and Roli. At some places there is a ritual to keep barley on the ear of son in a family and are offered to Lord Rama. The 10th Kand of cow's dung is considered to be the symbol of 10 heads of Ravan and these Kands are offered as bhog or food.
Vijaydashami Muhurta
After worshipping Ravana in the morning, his mannequin is burnt into ashes in the evening on the rise of the "Vijaya" star. The burning of his mannequin takes place before sunset because according to Hindu culture cremation is not performed after sunset.