The most fundamental of Hindu deities, is the Trinity of Brahma, Vishnu and Shiva - popular deities include Ganesha, Krishna, Hanuman and goddesses like Lakshmi, Durga,Saraswati.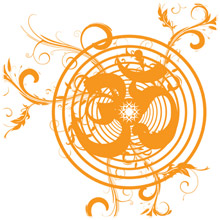 Madurai or "the city of nectar" is the oldest and second largest city of Tamil Nadu. This city is located on Vaigai River and was the capital of Pandyan rulers. The Pandyan king, Kulasekhara had built a gorgeous temple around which he created a lotus shaped city. It has been a center of learning and pilgrimage, for centuries. Legend has it that the divine nectar falling from Lord Shiva's locks gave the city its name - 'Madhurapuri', now known as "Madurai".
The Sri Meenakshi Sundareswara temple and Madurai City originated together. The structures that are standing today date mostly from the twelfth to the eighteenth century. They occupy a vast space, 258-m by 241m. There are the two main shrines, no less than twelve Gopuras, a pool and innumerable Mandapas. At every turn there is superb sculpture, magnificent architecture.
The Meenakshi temple complex is one of the largest and certainly one of the most ancient. According to legend Madurai is the actual site where the wedding between Shiva and Meenakshi took place. The gigantic temple complex, the statues exploring the entire range of human emotions, everything here is larger than life. The soaring and exquisitely carved towers enclose the temple dedicated to Meenakashi. The south gateway contains the twin temples of Shiva and Meenakshi and is about nine storeys high.
Once Dhananjaya, a merchant of Manavur, where the Pandyas had arrived after the second deluge in Kumari Kandam, having been overtaken by nightfall in Kadamba forest, spent the night in the Indra Vimana. When next morning he woke up, he was surprised to see signs of worship. Thinking that it must be the work of the Devas, he told the Pandya, Kulasekhara, in Manavur, of this. Meanwhile Lord Shiva had instructed Pandya in a dream to build a temple and a city at the spot Dhananjaya would indicate. Kulasekhara did so. Thus originated the temple and city