The most fundamental of Hindu deities, is the Trinity of Brahma, Vishnu and Shiva - popular deities include Ganesha, Krishna, Hanuman and goddesses like Lakshmi, Durga,Saraswati.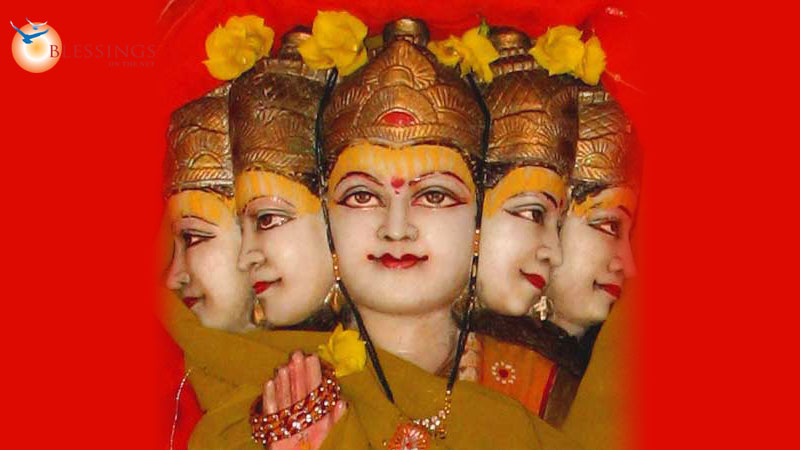 Gayatri is the name of one of the most important Vedic hymns consisting of twenty-four syllables This hymn is addressed to Lord Surya (Sun) as the supreme generative force. The hymn says, "We meditate on that glorious light of the divine Surya, may he, the lord of light illuminate our minds".
One of the sacred texts says, "The Gayatri is Brahma, Gayatri is Vishnu, Gayatri is Shiva, the Gayatri is Vedas" Gayatri later came to be personified as a Goddess. She is shown as having five heads and is usually seated within a lotus. The four heads of Gayatri represent the four Vedas and the fifth one represents almighty God. In her ten hands, she holds all the symbols of Lord Vishnu.
Goddess Gayatri Devi is an incarnation of Saraswati Devi, consort of Lord Brahma, symbolising the "shakti" (strength) and "dev" (quality) of Knowledge, Purity and Virtue. Saraswati Devi is held to be the patronness of the Arts, being a poet and musician, as well as skillful composer. In the form of Gayatri Devi, with the blessings of Lord Brahma, she is believed to have given the four Vedas to mankind.
Goddess Gayatri is depicted seated on a lotus. She is depicted with five faces representing the pancha pranas /pancha vayus(five lives/winds): prana, apana,vyana, udana, samana, of the five principles/ elements (pancha tatwas) earth, water, air, fire, sky (prithvi, jala, vayu, teja, aakasha). She has 10 hands carrying the five ayudhas: shankha; chakra, kamala, varada, abhaya, kasha, ankusha, ujjwala utensil, rudrakshi mala.
Gayatri, Savitri and Saraswati are three goddesses representing the presiding deities of the famous Gayatri mantra chanted thrice a day. Gayatri is the presiding deity of the morning prayer and rules over the Rigveda and the garhapatya fire. Every grihasta (householder) was expected to keep 5 or 3 sacred fires ( Five fires: ahavaneeya, dakshagni, garhapatya, sawta, aavasadha.) in his house to perform Vedic rituals.