The most fundamental of Hindu deities, is the Trinity of Brahma, Vishnu and Shiva - popular deities include Ganesha, Krishna, Hanuman and goddesses like Lakshmi, Durga,Saraswati.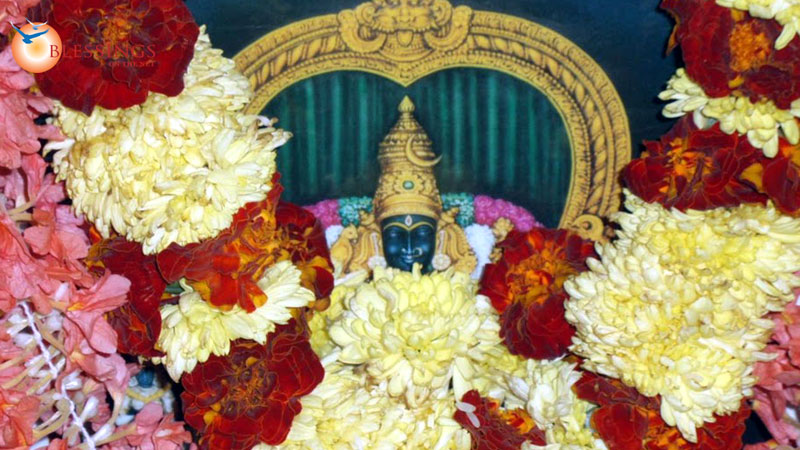 The goddess Kamakshi is a form of Tripura Sundari or Parvati or the universal mother goddess. The main abode of Kamashi is the Kamakshi Amman temple at Kanchipuram. Kamakshi is the presiding deity of the city of Kanchi.
The Goddess is called as "Sri Kamakshi. The word is derived from the heritage "Ka" means Goddess Saraswati (God of Education), "Ma" means Goddess Lakshmi (God of Wealth), "Akshi" means Eye. The name as a whole refers as the god lives in Kanchi with Goddess Saraswati and Goddess Lakshmi as her both eyes. The Lalitha Sahasranama poem is an idle example for the goddess power.

Goddess Kamakshi is considered to be the representation of Shri Vidya - Shri Lalita Maha Tripurasundari - she reigns supreme in Kanchi. The Goddess is said to reside as Bala Tripurasundari in a Bila (niche) situated under the shrine. The front mandapa is called the Gayatri Mandapa.In the Ardha Mandapa preceding the Garbhagriha, the Goddess is enshrined in a pitha, as Sri Vidya Parameswari.
The Devi is seated in majestic Padmasana posture, showering grace, peace and plenty on those who come for her darshan. Besides holding Pasa and Ankusa on her upper arms, Sri Kamakshi holds sugar-cane bow and floral arrows in her lower arms.
Sri Kamakshi Devi is Raja Rajeswari, and an embodiment of universal power-Parasakti. Hence there is no separate Ambal or Sakti shrine in Siva temples within the limits of Kanchipuram. Sri Adi Sankara had installed and consecrated a Srichakra in front of the Deity and the daily worship is done for this chakra -- known as the Kamakoti Peeta.