The most fundamental of Hindu deities, is the Trinity of Brahma, Vishnu and Shiva - popular deities include Ganesha, Krishna, Hanuman and goddesses like Lakshmi, Durga,Saraswati.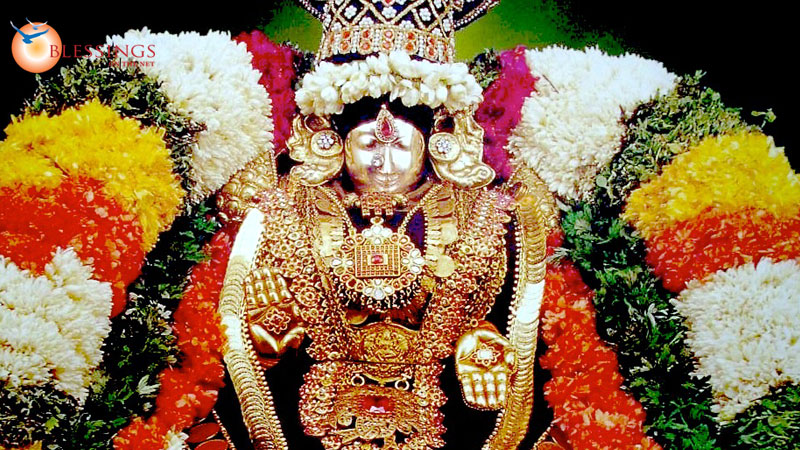 Sri Padmavathi Devi is said to be the incarnation of Goddess Laxmi, consort of Lord Vishnu. It is said that Goddess Laxmi gave darshan (appeared) to Lord Venkateshwara on a red lotus flower in Padma sarovar (lake) at Tiruchanoor, after his deep penance for twelve years. Alamelu mangamma or Goddess Padmavathi is the presiding deity of this temple .
Shree Padmavathi (Tiruchanur -- Andhra Pradesh) : Three miles from Tirupathi town in Andhra Pradesh, is Tiruchanur, where the temple of Alarmelu Mangai is situated. She is the consort of Lord Venkatachalapathi. She is also known as Padmavathi Thayar, as she is believed to have been born out of a Lotus flower.

According to Padma Purana, once sage Bhrigu was entrusted with the task of finding out the most Supreme one among the Trinity. First, he went to Kailsa. Nandi did not permit him to go in but somehow, he managed to secure permission but the Lord Shiva was sporting with his consort Parvati and paid no attention to Bhrigu. Cursing Shiva, Bhrigu came to Brahma. The latter did not even get up to receive him thinking that Bhrigu was after all his son. Cursing Brahma too, Bhrigu cam to Vishnu who was in fast asleep. Unable to control his anger, Bhrigu kicked Him on the chest. Goddess Lakshmi who was also on the chest received part of the kick. Lord Vishnu woe up and pleaded guilty. The sage was pleased with his inquiry to Bhrigus foot. In protest, Goddess Lakshmi against the arrogance of the sage, left the abode of Sri Vishnu. Unable to bear the separation, Lord Vishnu came down to earth and wandered for days and months. Reaching Kolhapur, he worshiped Lakshmis image in the temple, set up by sage Agasthya. An aerial divine voice directed him to go to Swarnamkukhi river bank and o penance there for twelve years worshiping Goddess Mahalakshmi with lotus flowers only then Goddess Mahalakshmi would grace her darshan and accept reunion. He reached Tiruchanoor and duga tank that is now called as Padma sarovar. He prayed Lord Satyanarayana Swamy to render the lotus flowers remain in full bloosam. Goddess Mahalakshmi appeared before Him on Karthika Sukla Panchami standing on a red lotus flower with lotus in two hands. She came forward to unite with the Lord. She choose to remain there in the name of Padmavathi as She has risen from Padma flowers. The same tank dug by Lord Mahavishnu and the same Lord Suryanarayana Swamy adored by Mahavishnu are now existing and receiving worship with the same ardour as Lord Balaji on Tirumala.
According to ancient scripts Tiruchanoor occupies a very important place. Under the Pallavas, this formed a part of Tiruvengadakootam and under the Cholas it became a part of Rajendra Cholamandalam. In the eighth century, the village was totally a Srivaishnava settlement. As Lord Venkateswaras temple at Tirumala was not of easy access, a new temple called Tiruvalankoil was constructed at Tiruchanoor to house a representative idol of Lord Srinivasa. At the end of ninth century, the place came under the patronage of Cholas. Shaivism gained support and importance Consequently, the temple of Lord Shiva was erected at Jogimalleswaram. Again, with the decline of the Chola power and the rise of Yadavarayas, Sri Vaishnavism regained support and temple was constructed for Goddess Padmavathi.
Among the important festivals held a Tiruchanoor, the Brahmotsavam of Goddess Padmavathi is celebrated during the month of Karthika Masam. On that day, Lord Srinivasa sends a costly sari, blouse piece, holy Tulasi, Turmeric leaves and food offerings as birthday gift to His consort Padmavathi. All these gifts are brought to Tiruchanoor on a specially decorated elephant with great honour and paraphernalia. Then the Goddess and Chakrattalvr are taken in a process in the ivory planquin along the streets of Tiruchanoor for a holy bath in the tank Padma sarovar.
Lakshmi Pooja is conducted as per strict sastraic tradition and devotees aspiring for wealth eagerly participate in this. Marriage of Goddess Padmavathi and Lord Venkateswara is performed in this temple as in Tirumala between 10.30am and 12 noon everyday. This is a temple, where any prayer is still answered provided there is sincerity and devotion in the heart of the pilgrim.