Blessingsonthenet.com culture section features various aspects of India culture, indian philosophy ,puja & rituals, customs, traditions, ceremonies, arts, dance, music, architecture,Hindu Mythology, god and goddesses, Sanint and sages and Indian rivers.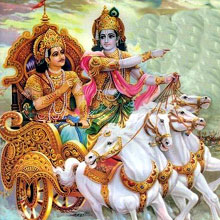 Interrelation between The Six Systems
The six schools are divided into three groups: (i) The Nyaya and the Vaiseshika, (ii) The Sankhya and the Yoga, and (iii) The Mimamsa and the Vedanta. The Vaiseshika is Supplement of the Sankhya. The Vedanta is an amplification and fulfilment of the Sankhya. Study of Vyakarana (grammer), Mimamsa, Nyaya and Sankhya is necessary to understand the Vedanta. The Nyaya sharpens the intellect and enables the, aspirants to grasp the Vedanta. The Nyaya is considered as a prerequisite for all philosophical enquiry.
The Vaiseshika is not very much in honour now.
The Nyaya is popular. The Yoga is practised on a few in its practical form. The Vedanta is the most popular of all the schools today.
The Nyaya and the Vaiseshika will give you an analysis of the world of experience. They arrange all the things of the world into certain kinds or categories (Padarthas). They explain how God has made all this material world out of items, and molecules. They show the way to attain knowledge of God. The Sankhya will provide you with deep knowledge of Hindu philosophy.
The Yoga deals with the control of Vrittis or thought-waves, and with meditation. The Yoga system shows the ways to discipline the mind and the senses. The Yoga will help you to cultivate concentration and one-pointedness of mind and enter into Nirvikalpa, Samadhi or the Superconscious State. The Purva-Mimamsa deals with the Karma-Kanda of the Vedas, and the Uttara-Mimamsa with the Jnana-Kanda. The Uttara-Mimamsa is also known as the Vedanta-Darsana. This is the cornerstone of Hinduism. The Vedanta philosophy explains in detail the nature of Brahman or the Eternal Being, and shows that the individual soul is in essence, identical with the Supreme Self. It gives methods to remove Avidya or the veil of ignorance and to merge oneself in the ocean of bliss or Brahman.
The Nyaya calls ignorance Mithya Jnana, false knowledge. The Sankhya calls it Aviveka, non-discrimination between the real and the unreal. The Vedanta names it Avidya . Each pliilosophy aims at attainment of Knowledge or Jnana. Then one attains eternal bliss immortality.
By study of Nyaya and Vaiseshika, one learns to utilise his intellect to find out fallacies and to know the material constitution of the world. By study and practice of Yoga , one gains self-restraint and obtains mastery over mind and senses. By practice of Vedanta, one reaches the highest rung of the ladder of spirituality or the pinnacle of divine glory, oneness with the Supreme Being by the destruction of ignorance (Avidya).