Blessingsonthenet.com culture section features various aspects of India culture, indian philosophy ,puja & rituals, customs, traditions, ceremonies, arts, dance, music, architecture,Hindu Mythology, god and goddesses, Sanint and sages and Indian rivers.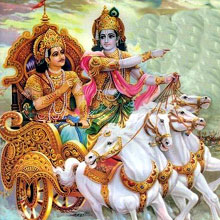 The nyaya and the Vaiseshika schools rely too much on human reasons, though they accept the Vedas as the supreme authority. Human intellect is frail and finite. It has got its limitations. It functions within time, Space and causation. Its findings cannot be imfallible. It cannot solve transcendental matters. Vedas only are infallible and authoritative. They contain the revelations or direct intuitional experiences of seers and Rishis. These experieces will tally with the experiences of those who have attained Knowledge of the self (Brahma-Jnana).
The Vedanta is the most satisfactory system of Philosophy.
It has been evolved out of the Upanishads. It has supereseded all other schools. The Mimamsa school had laid great stress on rituals, or Karma-Kanda. According to the Mimamsa school, Karma or ritual is all-in-all in the Veda. Upasana (worship) and Jnana (knowledge) are only accessories to Karma. This view is refuted by the Vedanta school. According to the Vedanta, Self-realisation (Jnana) is the foremost thing, and ritual and worship are accessories. Karma will take one to haven, which is only an impermanent place of refined sensual enjoyment. Karma cannot destroy the cycle of births and deaths, and cannot give eternal bliss and immortality.
Duiring the time of Sankaracharya, all the six schools of Philosophy flourished. Therefore, he had to refute the other systems in order to establish his absolute monism (Kevala Advaita). But, nowadays, Sankhya, Vaiseshika, etc. are in name only.