Blessingsonthenet.com culture section features various aspects of India culture, indian philosophy ,puja & rituals, customs, traditions, ceremonies, arts, dance, music, architecture,Hindu Mythology, god and goddesses, Sanint and sages and Indian rivers.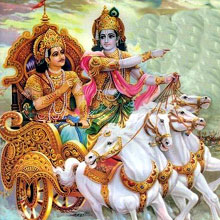 The Nyaya or Hindu logic was founded, by Gautama Rishi. who is also known by, the names Akshtapada and Dirghatapas. The Nyaya and the Vaiseshika are analytic types of philosophy. The word Nyaya signifies going into a subject. I.e., investigating it analytically. In this sense of analysis the word Nyaya is exactaly, opposed to Sankhya, synthesis. The Nyaya is sometimes called Tarka-Vidya or the Science of Debate, Vada-Vidya or the Science of Discussion. Tarka is a special feature of the Nyaya.
The Nyaya is not merely formal logic, but a complete epistemology. Ordinary people think that the Nyaya is chiefly concerned with logic. Logic is merely a part or a single topic. The purpose of the Nyaya is a critical examination of the objects of knowledge by means of the canons of logical proof.The Nyaya system deals critically with metaphysical problems. It contains discussions on psychology, logic metaphysics and theology.