Blessingsonthenet.com culture section features various aspects of India culture, indian philosophy ,puja & rituals, customs, traditions, ceremonies, arts, dance, music, architecture,Hindu Mythology, god and goddesses, Sanint and sages and Indian rivers.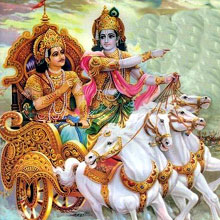 The Nyaya says that the actions of man produce their fruits, called Adrishta, under the control of God. God supervises the work of Adrishta. The intelligent principle of Adrishta, which governs the fate of man acts under the direction of God. God does not alter the course of Adrishta, but renders possible its operation. God is the bestower of the fruits of actions of human beings. God is a Special Soul endowed with omnipotence and omniscience, by which He guides and regulates the world.
God is a Personal Being. He is free from MithyaJnana (false knowledge), Adharma (dermerit), and Pramada (carelessness). He has Jnana (knowledge), Ichha (desire), and Prayatna (volational effort). God is ONE, Creator, who is endowed with Nitya Jnana (eternal knowledge) and Ichha-Kriya (desire-action) as His Gunas (attributes). He is Vibhu (all pervading).