Blessingsonthenet.com culture section features various aspects of India culture, indian philosophy ,puja & rituals, customs, traditions, ceremonies, arts, dance, music, architecture,Hindu Mythology, god and goddesses, Sanint and sages and Indian rivers.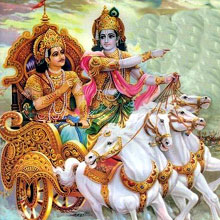 Bondage And The Means To Emancipation
Misapprehension (Mithya-Jnana), faults (Dosha), activity (Pravritti), birth (Janma) and pain Duhkha) constitute the world. False notion or false knowledge is at the root of all misery and pain. From Mithya-Jnana or false notion comes the fault of like and dislike (Raga-Dvesha); from Raga-Dvesha proceeds Karma or action-virtuous or vicious--which forces a man to pass through repeated births for the sake of its reward or punishment. From these births proceed misery and pain. It is the aim of philosophy to eradicate the false notion or Mithya-Jnana, which is at the root of all miseries and pains. On the successive annihilation of misapprehension, faults, activity, birth and pain, there follows release (Apavarga).