Blessingsonthenet.com culture section features various aspects of India culture, indian philosophy ,puja & rituals, customs, traditions, ceremonies, arts, dance, music, architecture,Hindu Mythology, god and goddesses, Sanint and sages and Indian rivers.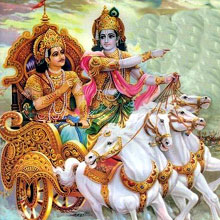 One can remove misapprehension or false knowledge and attain supreme felicity by the true knowledge of the sixteen categories. The sixteen categories are: means of right knowledge (Pramana), object of right knowledge (Prameya), doubt (Samsaya), purpose (Pravojana), familiar instance (Drishtanta), established tenet (Siddhanta), members (Avayava), argumentation (Tarka), ascertainment (Nirnaya), discussion (Vada), wrangling (Jalpa), cavil (Vitanda), fallacy (Hetvabhasa), quibble (Chala), futility (Jati), and occasion for rebuke (Nigraha-sthana).
There is first, the state of Samsaya or doubt about the point to be discussed. Next comes the Prayojana or motive for discussing it. Next follows a Drishtanta or example, which leads to the Siddhanta or established conclusion. Then comes the objector with his Avayava or argument split up into five members.
Next follows the Tarka or refutation, and the Nirnaya or ascertainment of the true state of the case. A further Vada or controversy takes place, which leads to Jalpa or mere wrangling. This is followed by Vitanda or cavilling. Hetvabhasa or fallacious reasoning and Nigraha-sthana, the putting an end to all discussion by a demonstration of the objector's incapacity for argunient.
When one attains the true knowledge, his faults, viz., affection (Raga), aversion (Dvesha) and stupidity (Moha) vanish. Aversion includes anger, envy, malice and hatred. Attachment includes lust, greed, avidity and covetousness. Stupidity includes suspicion, conceit, carelessness and misapprehension. Stupidity generates dislike and attachment. You must put an end to the chain, which begins with misapprehension or false knowledge and ends with pain, if you wish to attain release. If false knowledge vanishes, faults will disappear. If faults vanish, one is freed from activity and the consequent transmigration and pains.
Transmigration, which consists in the souls leaving one body and taking another, is the cause of its undergoing pleasure and pain. A soul which is no longer subject to transmigration is freed from all pains. The soul attains release as soon as there is an end to the body, and consequently to pleasure and pain.