Blessingsonthenet.com culture section features various aspects of India culture, indian philosophy ,puja & rituals, customs, traditions, ceremonies, arts, dance, music, architecture,Hindu Mythology, god and goddesses, Sanint and sages and Indian rivers.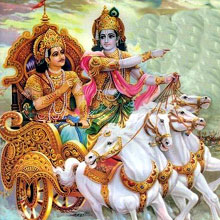 The State of Apavarga or Release
Apavarga, or release, is absolute deliverance from pain. It is freedom from pain. It is cessation of pain. It is not the enjoyment of positive pleasure. It is not annihilation of the self. It is destruction of bondage. Release from the twenty-one kinds of pain or Duhkha is liberation (Moksha). In the state of release, there is no connection of mind with the Atman. The Atman is destitute of desire, effort, merit, demerit, hatred, mental impressions, etc., in the state of liberation, is then, there is no mind. It is a state of painless, passionless existence.
This world has begun by a combination of atoms. It has Samyoga (conjunction) and Viyoga (disassociation). The cause of the world is the Paramanus (atoms) and the nine Dravyas (materials), including Isvara (God). Isvara has Nitya-Jnana (eternal-knowledge) who has also Ichha-Kriya (desire-action) is Gunas (qualities).
He is Vibhu (allpervading). Jiva is doer and enjoyer. He has several, attributes. Jivas are endless. The cause for bondage is ignorance (Ajnana). Twenty-one kinds of pain constitute bondage. Moksha is destruction of all kinds of pain. Knowledge of the Atman, as is distinct from others, is Moksha-Sadhana. Gautama advocates Arambhavada and Anyathakhyati (theory of the production of a new effect from every cause and of realistic epistemology).