Blessingsonthenet.com culture section features various aspects of India culture, indian philosophy ,puja & rituals, customs, traditions, ceremonies, arts, dance, music, architecture,Hindu Mythology, god and goddesses, Sanint and sages and Indian rivers.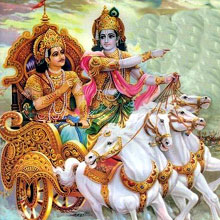 Pleasure and pain result from the contact of soul, sense, mind and object.
From pleasure arises desire. From pleasure derived from the enjoyment of garlands, sandal paste, women and other objects. Raga or desire is produced successively for pleasure of a similar kind or for the means of attaining it. From pain caused by snakes, scorpions, thorns and the like aversion arises with regard to such pain or with regard to its source.
A very powerful impression is produced by constant or habitual experience of objects, through the influence of which, a sad lover who does not win his mistress sees his beloved in every object. He who has been bitten by a snake beholds snakes everywhere, on account of a strong impression regarding that.