Blessingsonthenet.com culture section features various aspects of India culture, indian philosophy ,puja & rituals, customs, traditions, ceremonies, arts, dance, music, architecture,Hindu Mythology, god and goddesses, Sanint and sages and Indian rivers.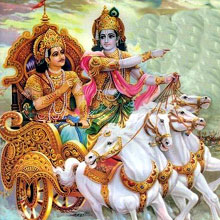 Knowledge That Results in Release
Intuitive knowledge of the Self, destroys false knowledge. Consequently, attraction, aversion, stupidity or Moha and other faults vanish. Then activity also disappears. Then birth due to action does not take place. Consequently, pain connected with birth also dissapears.