Blessingsonthenet.com culture section features various aspects of India culture, indian philosophy ,puja & rituals, customs, traditions, ceremonies, arts, dance, music, architecture,Hindu Mythology, god and goddesses, Sanint and sages and Indian rivers.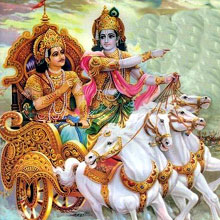 The World-A Reality Distinct From God
According to Madhva, the world is not an illusion. It is not also a transformation of God, as curd is of milk. Madhva does not admit that the world is the body of God. The distinction between God and the world is absolute and unqualified. Hence the system of Madhva is called Dvaita or unqualified dualism.