Blessingsonthenet.com culture section features various aspects of India culture, indian philosophy ,puja & rituals, customs, traditions, ceremonies, arts, dance, music, architecture,Hindu Mythology, god and goddesses, Sanint and sages and Indian rivers.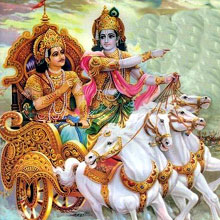 There is plurality of Jivas. They are all of atomic size. The entire universe is filled with Jivas or individual souls. Every atom of space is filled up with Jivas. Madhva says in his 'Tatvanirnaya: "Infinite are the souls dwelling in an atom of space."
No two Jivas are alike in character. They are essentially different from one another. There are different grades amongst them even in their enjoyment of bliss after salvation.