Blessingsonthenet.com culture section features various aspects of India culture, indian philosophy ,puja & rituals, customs, traditions, ceremonies, arts, dance, music, architecture,Hindu Mythology, god and goddesses, Sanint and sages and Indian rivers.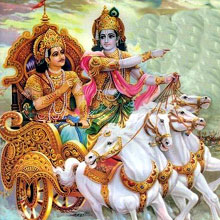 Ankana, Namakarana, Bhajana and Smarana
The worship of Vishnu consists in
(i) Ankana, marking, the body with His symbols, (ii) Namakarana. Giving the Names of the Lord to children, (iii) Bhajana, singing his glories, and (iv) Smarana, and constant practice of remembrance of God. Madhva says: "Form a strong habit of remembering God. Then only it will be easy for you to remember Him at the moment of death." He pointed out that when the Lord incarnated, no Prakrita Deha or material body was put on by Him. Madhva has prescribed a rigorous kind of fasting to his followers.