Blessingsonthenet.com culture section features various aspects of India culture, indian philosophy ,puja & rituals, customs, traditions, ceremonies, arts, dance, music, architecture,Hindu Mythology, god and goddesses, Sanint and sages and Indian rivers.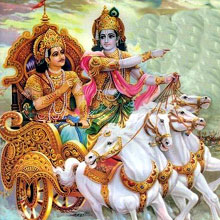 Good moral life is a preliminary for Moksha. The aspirant should equip himself with the study of Vedas, control of the senses, dispassion and perfect self-surrender, if he wants to have vision of the Lord. Renunciation, devotion and direct cognition of the Lord through meditation lead to the attainment of salvation. The devotee attains direct intuitive realisation of God through meditation and divine grace. Then he is freed from the round of births and deaths.
These are some of the important teachings of Sri Madhvacharya, the renowned exponent of the dualistic school of philosophy.