Blessingsonthenet.com culture section features various aspects of India culture, indian philosophy ,puja & rituals, customs, traditions, ceremonies, arts, dance, music, architecture,Hindu Mythology, god and goddesses, Sanint and sages and Indian rivers.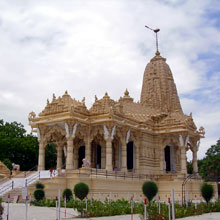 Music and dance generally ,was a part of the daily ritual of the Temple and during special celebrations and annual festivals these played a particularly dominant role. Large Temple would maintain their own musicians, both vocal and instrumental, together with dancers, actors and teachers of the performing arts.
Bharatnatyam this is one of four classical styles of South India temple dancing. Each gesture and movement has a meaning. Dancers never turn their back to the gods that they are honouring. Devadasis, or servants of God, traditionally perform this type of dance in temples. Bharata means India , and nritya means dance. it begins with alarippu, which symbolizes the body as an offering to the gods. She then combines nritya, emotions, with nritta, pure dance. they use heavy face and hand expressions. They are accompanied by musicians and a nattuvanar. Madras is the main place for Bharata Natyam dance. there are regular performances at the Kalakshetra center .
Kathakali Dance :
It means literally, story-play. The performance is worship. It is only performed by men. Boys take the part of women. The dance is accompanied by a vocalist and drummers. They tell stories of the Mahabharata and Ramayana. Dialogue is combined with the dance.
The costumes are very decorative with huge skirts and headdresses and the dancers wear heavy make-up. There is much movement of the limbs and eyes and every gesture has a specific meaning.
There are five primary distinct characters, which you can tell by their makeup and costumes. Pacha (green) represents the noble-hearted hero or god; kathi (knife) represents a mixture of the nobility and evil; both of them have their face painted green, but the kathi has a knife pattern on the cheek in red pigment and a small white ball is on the tip of the nose and the middle of the forehead. The other characters are tati (beard), kari (black), and minukku (polished). Bad guys usually have black faces with white spots on their cheeks or nose.
They may have a red beard (thadi), a false nose and a big frill. They put a chunlappuva seed inside the eye-lid to turn the white part of the eyes red. Hanuman's face is red.
Dances can last for hours. Originally Kathakali used to be an all-night performance in temples during festivals. Dancers train for six to twenty years to learn the dance steps and movements. it demands extraordinary muscle control to contort the face and make the sudden leaps and spins.
It takes four hours to prepare for a performance, to put on the make-up, elaborate costumes, and head dress. Everything is put on in a fixed order.
Manipuri Dance :
This style of style dancing is considered a religious ritual. Many of the dances have themes based on Krishna's pastimes. Manipur is a hilly tract of land in the extreme northeastern part of India.
Odissi Dance :
This is classical Orissan temple dancing. The dance is a ritual offering, which is performed in the temples. There are strict rules of position of feet, body, and hands. Jayadeva's Gita Govinda, which is about Krishna's great love for Radha, is a favorite subject of this dance.