Blessingsonthenet.com culture section features various aspects of India culture, indian philosophy ,puja & rituals, customs, traditions, ceremonies, arts, dance, music, architecture,Hindu Mythology, god and goddesses, Sanint and sages and Indian rivers.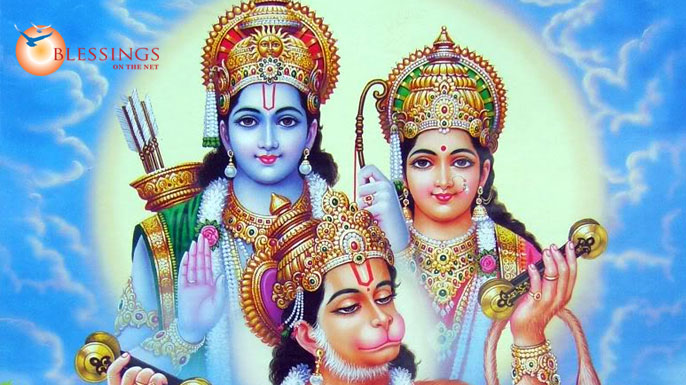 Ramayana is one of the great epics of India. The Ramayana is one of the two great epics of India, the other being the Mahabharata.The Ramayana, "the Journey of Rama," is a Sanskrit epic compiled by the poet-sage Valmiki
Rama, the ancient idol of the heroic ages, the embodiment of truth, of morality, the ideal son, the ideal husband, and above all, the ideal king, this Rama has been presented before us by the great sage Valmiki. No language can be purer, none chaster, none more beautiful, and at the same time simpler, than the language in which the great poet has depicted the life of Rama."
-- Swami Vivekananda.
Brief summary of Ramanya :
Prince Rama was the eldest of four sons and was to become king when his father retired from ruling. His stepmother, however, wanted to see her son Bharata, Rama's younger brother, become king. Remembering that the king had once promised to grant her any two wishes she desired, she demanded that Rama be banished and Bharata be crowned. The king had to keep his word to his wife and ordered Rama's banishment. Rama accepted the decree unquestioningly. "I gladly obey father's command," he said to his stepmother. "Why, I would go even if you ordered it."
When Sita, Rama's wife, heard Rama was to be banished, she begged to accompany him to his forest retreat. "As shadow to substance, so wife to husband," she reminded Rama. "Is not the wife's dharma to be at her husband's side? Let me walk ahead of you so that I may smooth the path for your feet," she pleaded. Rama agreed, and Rama, Sita and his brother Lakshmana all went to the forest.
When Bharata learned what his mother had done, he sought Rama in the forest. "The eldest must rule," he reminded Rama. "Please come back and claim your rightful place as king." Rama refused to go against his father's command, so Bharata took his brother's sandals and said, "I shall place these sandals on the throne as symbols of your authority. I shall rule only as regent in your place, and each day I shall put my offerings at the feet of my Lord. When the fourteen years of banishment are over, I shall joyously return the kingdom to you." Rama was very impressed with Bharata's selflessness. As Bharata left, Rama said to him, "I should have known that you would renounce gladly what most men work lifetimes to learn to give up."
Later in the story, Ravana, the evil King of Lanka, (what is probably present-day Sri Lanka) abducted Sita. Rama mustered the aid of a money army, built a causeway across to Lanka, released Sita and brought her safely back to Aydohya. In order to set a good example, however, Rama demanded that Sita prove her purity before he could take her back as his wife. Rama, Sita and Bharata are all examples of persons following their dharma. Ravana, king of the Rakshasa race (man-eaters), heard of Sita's beauty and kidnapped her. Rama was beside himself with grief, but resolved to rescue his wife. He eventually formed an alliance with a race of Varnaras (monkey-like people). Their general, Hanuman, eventually found Sita on the isle of Lanka. Thereafter, Rama ordered his army to throw boulders in the ocean. Miraculously they floated, and the monkey warriors constructed a floating bridge to Lanka. The two armies met outside the city gates. Rama's army managed to gain the upper hand and many of Ravana's sons were slain. Eventually Rama killed Ravana, was reunited with Sita, and returned to his capital, Ayodhya. During his reign everyone was freed from misery.
The triumphant restoration of Lord Rama to his own kingdom is celebrated during the famous festival of lights, Divali. Rama, with Sita, Lakshman, and his entire army, returned on the night of the new moon. It was pitch dark, and the jubilant citizens lit the way with thousands of divas (lamps).