Blessingsonthenet.com culture section features various aspects of India culture, indian philosophy ,puja & rituals, customs, traditions, ceremonies, arts, dance, music, architecture,Hindu Mythology, god and goddesses, Sanint and sages and Indian rivers.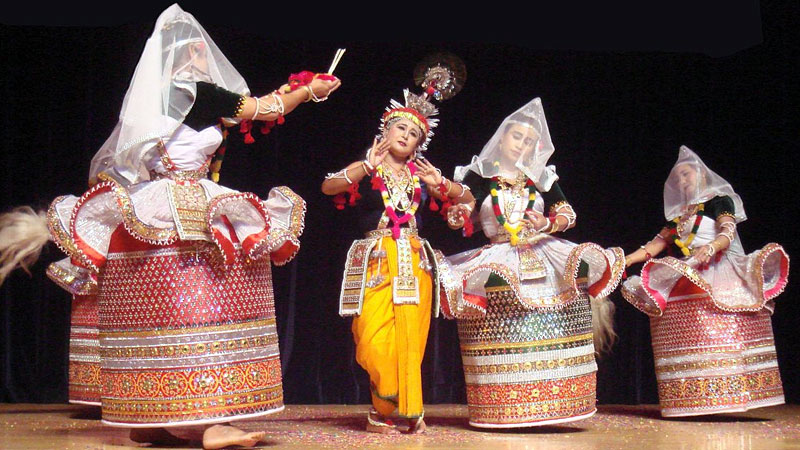 Manipuri is one of the six major classical dances of India. Manipuri dance is indigenous to Manipur, the North eastern state of India.Initially a part of temple procedures, Manipuri dance still retains the religious and social element in the performances. Very much religious and associated to Vaishnav cult of Hinduism, the art form primarily depicts episodes from the life of Lord Vishnu.
Manipuri dance style is multifaceted and ranges from the softest feminine to the vigorous masculine. Dignified grace is found in every aspect and the range it offers in technique, rhythmic and tempo, which makes a Manipuri recital an absorbing and exhilarating experience .Looking from a religious and artistic point of view the Manipuri Classical dance is said to be one on the purest, modest, softest and mildest and meaningful dances.
Manipuri Dance is a common name and envelopes all the dance-forms of Manipur. Thus, Manipuri dance can be called a basket of various dances. According to legends the original creator of Manipuri dance was Radha and Krishna. This Rasa Leela dance is said to be repeated by Shiva and his consort, Goddess Uma in Lasya style (in Manipur). It is interesting to note that the same dance (Rasa-dance) was performed for the third time by two mortal human beings, princess Toibi and Khamba of Manipur. The dance performed by these two lovers is known as Lai Haraoba.