Blessingsonthenet.com culture section features various aspects of India culture, indian philosophy ,puja & rituals, customs, traditions, ceremonies, arts, dance, music, architecture,Hindu Mythology, god and goddesses, Sanint and sages and Indian rivers.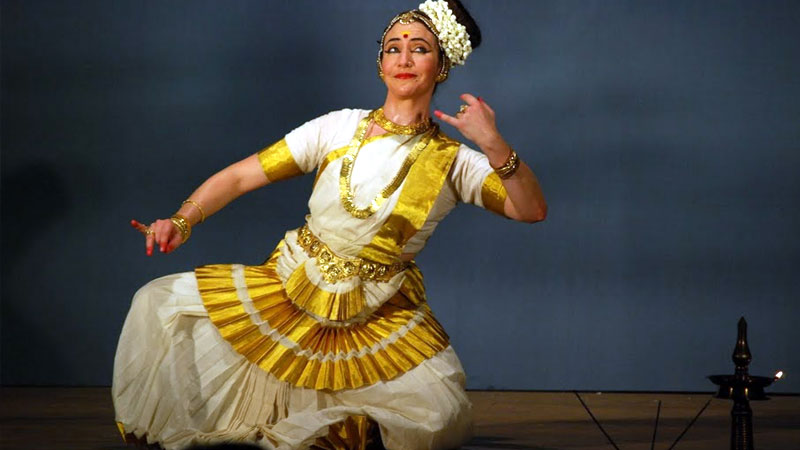 Mohiniattam is a classical dance form of Kerala. Mohiniattam is derived from the words "Mohini" (meaning beautiful women) and "attam"(meaning dance).Mohiniattam, one amongst the youngest Indian classical dances, came into being during the 16th Century A.D. By 19th Century, it was in its full form as it was boosted and encouraged by Swathi Tirunal, Maharaja of Trivandrum. The form is extremely sensual and graceful and is performed both solo and in a group by women.
Mohiniattam is believed to have been named after Lord Vishnu, who had disguised himself as 'Mohini', with an intention to slay Bhasmasura and during the churning of nectar from the ocean as well. However, the basis of this dance is not seduction alone. It also signifies transformation of Lord Vishnu into a female form and also the concept of 'Ardhnareeshwara' i.e. male and female as one. Like many other dance forms, it is essentially dedicated to the love and devotion towards God and was restricted to the Devadasis.
The performers of Mohiniattam dance usually wear an off-white colored sari with gold brocade borders. Hairs of the dancer are gathered in a bun and decorated with jasmine flowers. The Mohiniattam dancer is adorned with Gold Jewellery including necklaces, bangles, waistbands and anklets. The tinkling of the Jewellery produces music as the dancer performs the dance. Mohiniattam dance is accompanied by musical instruments like violin, Veena and Mridangam and the dancer narrates episodes from the epics and legends through elegant steps, rhythmic movements of her arms and amazing facial expressions. The Hastha Lakshandeepika is a classical text and forms the basis of hands and arms movement in Mohiniattam.