Blessingsonthenet.com culture section features various aspects of India culture, indian philosophy ,puja & rituals, customs, traditions, ceremonies, arts, dance, music, architecture,Hindu Mythology, god and goddesses, Sanint and sages and Indian rivers.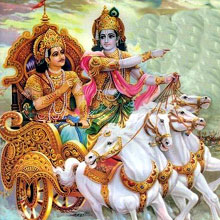 The Gunas, according to the Sankhya philosophy, Prakriti is composed of three Gunas or forces, called Sattva (purity, light, harmony), Rajas (passion, activity, motion) and Tamas (inertia, darkness, inertness, inactivity).
Guna means a cord. The Gunas bind the soul with a triple bond. These Gunas are not the Nyaya-Vaiseshika Gunas. They are the actual substances or ingredients, of which Prakriti is constituted. They make up the whole world evolved out of Prakriti. They are not conjoined in equal quantities, but in varying proportions, one or the other being in excess. Just as Sat-Chit-Ananda is the Vedantic trinity. So also the Gunas are the Sankhyan trinity.