Blessingsonthenet.com culture section features various aspects of India culture, indian philosophy ,puja & rituals, customs, traditions, ceremonies, arts, dance, music, architecture,Hindu Mythology, god and goddesses, Sanint and sages and Indian rivers.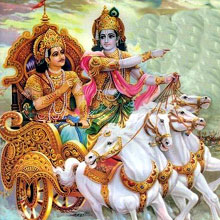 Characteristics of the Purusha or Self
The Purusha or the Self is beyond Prakriti. It is eternally seperate from the latter. Purusha is without beginning or end. It is without attributes and without qualities. It is subtle and omnipresent. It is beyond mind, intellect and the senses. It is beyond time, space and causality. It is the eternal seer. It is perfect and immutable. It is pure consciousness (Chidrupa).
The Purusha is not the doer. It is the witness. The Purusha is like a crystal without any colour. It appears to be coloured by the, different colours, which are placed before it. It is not material. It is not a result of combination. Hence it is immortal. The Purushas or souls are infinite in number, according to the Sankhya. There are many Purushas. If the Purushas were one, all should become free if any one attained release.
The different souls are fundamentally identical in nature. There is no movement for the Purusha. It does not go anywhere when it attains freedom or release.
Souls exist eternally separate from each other and from Prakriti. Each soul retains its individuality. It remains unchanged through all transmigrations.