Blessingsonthenet.com culture section features various aspects of India culture, indian philosophy ,puja & rituals, customs, traditions, ceremonies, arts, dance, music, architecture,Hindu Mythology, god and goddesses, Sanint and sages and Indian rivers.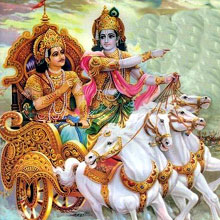 Prostrations and adorations to Sri Vyasa, the founder of Uttara Mimamsa or the Vedanta system of philosophy, Avatara of Lord Vishnu, son of Sri Parasara Rishi.
The Uttara Mimamsa conforms closely to the doctrines propounded in the Upanishads. The term Vedanta means literally the end or essence of the Veda. It contains the doctrines set forth in the closing chapters of the Vedas. The closing chapters of the Vedas are the Upanishads. The Upanishads really form the essence of the Vedas.