Blessingsonthenet.com culture section features various aspects of India culture, indian philosophy ,puja & rituals, customs, traditions, ceremonies, arts, dance, music, architecture,Hindu Mythology, god and goddesses, Sanint and sages and Indian rivers.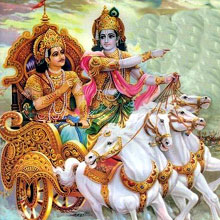 Sri Sankara, Sri Ramanuja and Sri Madhva are the most illustrious commentators on the Vedanta Sutras. These commentators have tried to establish theories of their own, such as Advaita (unqualified non-dualism or uncompromising or rigorous monism), Visishtadvaita-Vada (differentiated or qualified monism) and Dvaita-Vada (strict or rigorous dualism).
Dualism (Dvaita), Qualified Monism (Visishtadvaita) and Monism (Advaita) are the three main schools of meta-physical thought. They are all stages on the way to the Ultimate Truth, viz., Para-Brhaman. They are rungs on the ladder of Yoga. They are not at all contradictors. On the contrary, they are complimentary to one another. These stages are harmoniously arranged in a graded series of spiritual experiences. Dualism, qualified Monism, Pure Monism, all these culminate eventually in the Advaita Vedantic realisation of the Absolute or the transcendental Trigunatita Ananta Brahman.Madhva said,"Man is the servant of God," and established his Dvaita philosophy. Ramanuja said: "Man is ray of spark of God" and established his Visishtadvaita philosophy. Sankara said: "A man is identical with Brahman or the Eternal soul," and established his Kevala Advaita philosophy.
A Dvaitin wants to serve the Lord as a servant. He wishes to play with the Lord. He wishes to taste the sugarcandy. A Visishtadvaitin wants to become like Lord Narayana, and enjoy the divine. He does not wish to merge himself or become identical with the Lord. He wishes to remain as a spark. A Jnani merges himself in Brahman. He wishes to become identical with Brahman. He wants to become the sugar-candy itself.
People have different temperaments, and different capacities. So different schools of philosophy are also necessary. The highest rung is Advaita philosophy. A dualist or qualified monist eventually becomes a Kevala Advaitin.