Blessingsonthenet.com culture section features various aspects of India culture, indian philosophy ,puja & rituals, customs, traditions, ceremonies, arts, dance, music, architecture,Hindu Mythology, god and goddesses, Sanint and sages and Indian rivers.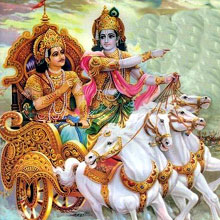 Introduction Dvaita Phiosophy
Sri Madhvacharya evolved a dualistic system of philosophy out of the Prasthana-Traya, viz., the Upanishads, the Bhagavad-Gita and the Brahma Sutras. It is an unqualified dualism. Madhva's Vaishnavism is called Sad-Vaishnavism, in order to distinguish it from the Sri Vaishnavism of Ramanujacharya.
Madhva makes an absolute distinction between God, and God a animate and inanimate objects. God is the only independent Reality. The animate and inanimate objects are dependent realities. Madhva's Vedanta is the doctrine of absolute differences. It is an Atyanta-Bheda-Darsana. He insists on five great distinctions (Pancha-Bheda), viz., (i) the distinction between God and the individual soul, (ii) the distinction between God and matter, (iii) the distinction between the individual soul and matter, (iv) the distinction between one soul and another and (v) the distinction between one material thing and another. Madhva's philosophy is a philosophy of distinction. Every follower of the Madhva should have a firm belief in this fivefold distinction known as the Pancha-Bheda.
Madhva's philosophy has many points in common with those of Ramanuja. Madhva's system of philosophy, Hari or Vishnu is the Supreme Being. The world is real. Difference is true. All the Jivas are dependent on Hari, the Lord. There are grades of superiority and inferiority among the individual souls. Liberation is the individual soul's enjoyment of its innate bliss. This is Moksha or the final emancipation. Bhakti, or devotion, without fruits, is the means of attaining Moksha. Perception, inference and the scriptures are the three Pramanas, or ways of knowledge. Hari is knowable only through the Vedas. Worship of Lord Krishna as taught in the Bhagavata Purana is the centre of his religion. This is the quintessence of Madhva's teachings.