Blessingsonthenet.com culture section features various aspects of India culture, indian philosophy ,puja & rituals, customs, traditions, ceremonies, arts, dance, music, architecture,Hindu Mythology, god and goddesses, Sanint and sages and Indian rivers.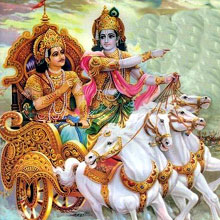 Introduction Dvaitadvaita
This is also known by the name Bhedabheda School of Philosophy or dualistic monism. This system was evolved by, Sri Nimbarkacharya. Nimbarka was a Telugu Brahmin of the Vaishnava faith. He lived some time after Ramanuja and prior to Madhva, about the eleventh century A.D. He is regarded as the incarnation of the Sun.
Nimbarka's view was largely influenced by the teachings of Bhaskara who flourished in the first half of the ninth century and who interpreted the Vedanta system from the viewpoint of Dvaitadvaita or dualistic nondualism. This doctrine was not a new discovery of Bhaskara. It was upheld by the ancient teacher Audulomi to which Sri Vyasa himself refers in his Vedanta Sutras.