Blessingsonthenet.com culture section features various aspects of India culture, indian philosophy ,puja & rituals, customs, traditions, ceremonies, arts, dance, music, architecture,Hindu Mythology, god and goddesses, Sanint and sages and Indian rivers.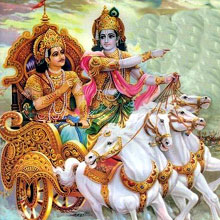 Philosophy of Sri Vallabhacharya
The philosophy of Sri Vallabhacharya is Suddha-Advaita or pure monism, because he does not admit Maya like Sankara, and believes that the whole world of matter and souls is real and is only a subtle form of God. Those who bring Maya for the explanation of the world are not pure Advaitins, because they admit a second to Brahmin. Vallabha holds that Brahman can create the world without any connection with such a principle as Maya, but Sankara traces the universe to Brahmin through the power of Maya. Hence the philosophy of Vallabha is called pure monism or Suddhadvaita.
Vallabha expounded the system in the Anu-Bhashya which has commentary on the Brahma Sutras. He called it Suddha-Advaita or pure monism as against Sankara's Kevala Advaiti and Ramanuja's Visishta Advaita. Vallabha was a Telugu Brahmin of South India. He migrated to the north and developed the views of Vishnuswamin who belonged to the thirteenth century. His system of thought is known by the name Brahma-Vada.
Vallabha says that the entire universe is real and is subtly Brahman. The individual souls and the world are in essence, one with Brahman. Jiva, Kala (time) and Prakriti or Maya are eternal existences, but they have no separate existence apart from Brahman.
Vallabha was a great Sanskrit scholar. He settled down first in Mathura and then at Varanasi. He preached with great zeal the Vaishnava cult and philosophy. He was the founder of the great Vaishnava Mutts of Rajasthan and Gujarat. His followers are found in great numbers in Nathdwara.