Blessingsonthenet.com culture section features various aspects of India culture, indian philosophy ,puja & rituals, customs, traditions, ceremonies, arts, dance, music, architecture,Hindu Mythology, god and goddesses, Sanint and sages and Indian rivers.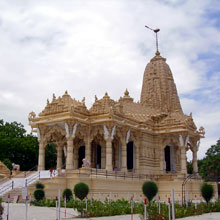 Observance of physical cleanliness is an imperative for any person entering a Hindu Temple. The scriptures stress that one must bathe or at least wash face, hands and feet prior to darshan of the images of God. Physically clean, a man enters the mandir complex.
Removing his footwear, he prepares to ascend the steps leading to the central shrine. As he climbs up - although he may not have realized it - the process of mental and spiritual cleansing has already begun.
He enters the Temple gateway to be greeted by the deities of Hanumanji (facing north) and Ganpati (facing south). The former image signifies steadfastness and is believed to infuse spiritual strength whilst the latter signifies auspiciousness. As the visitor proceeds towards the central shrine, his heart is warmed and awe-stricken by the elegantly sculpted pillars, the attractive columns, beautifully carved arches, the huge dome and tall pinnacles. No visitor can fail to be moved by this sight. He forgets worldly propensities experiences a feeling that he is nothing before the grandeur of God.
Full of humility, his fingers touch the dust of the mandir steps which lie then applies to his eyelids and head. Bowing with devotion, he makes his way to the main altar-sanctum sanctorum - eager for a glimpse of the enshrined image.
Suddenly the drums begin beating, the bells start ringing and the altar doors open. The lamps of the arti are lit and his eyes behold the spectacular sight of the Lord's divine image enthroned under the central pinnacle. He is struck by the beauty of the image - the attractive clothes and glittering ornaments help him to concentrate on the Deity. Seeing the protective expresses of God's hands, he experiences fearlessness. As he offers prayers, prostrations and circumambulations, he feels that he has moved somewhat nearer to God.