Blessingsonthenet.com culture section features various aspects of India culture, indian philosophy ,puja & rituals, customs, traditions, ceremonies, arts, dance, music, architecture,Hindu Mythology, god and goddesses, Sanint and sages and Indian rivers.
Spirituality - Holistic Healing -Wellness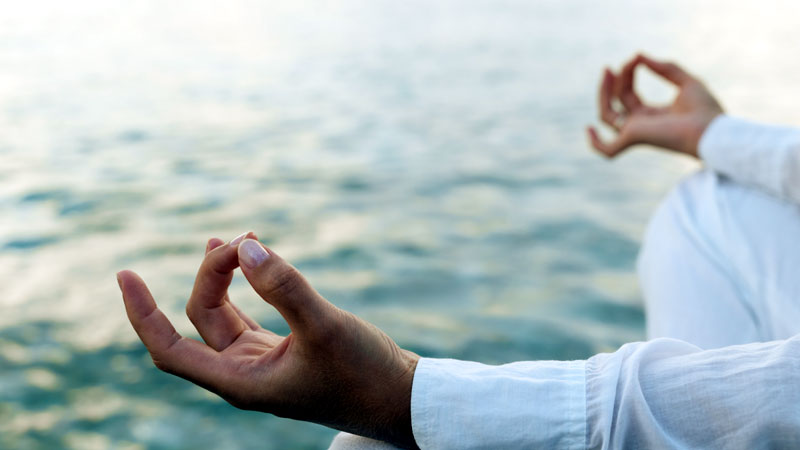 Sri Chinmoy - Meditation simplifies our outer life and energizes our inner life. Meditation gives us a natural and spontaneous life, a life that becomes so natural and spontaneous that we cannot breathe without being conscious of our own divinity
Meditation is a mind-body remedy comprising an array of exercises, essentially concentrating our attention on something for a period of time. The process is basically designed to carry us away from the impressions created by our thoughts and senses so that we are able to acknowledge everything in its truest form.
Meditation is a technique that we can use at any time and place to quieten the mind and restore peace and harmony within ourselves. This subsequently gets manifested in our outward life as well. Meditation is intended not to stop us thinking but to help us to produce order in the midst of our confusion. By relaxing our mind through meditation, we can clear the chatter for a time and experience a renewed sense of energy. This enables us to bring identity, clarity and freedom to take control over our lives to become healthier and happier.
Accumulated stress is the root cause of a high proportion of illnesses, including many common and serious conditions. By eliminating stress, meditation offers important benefits for the cure and prevention of a wide range of health problems and allows the mind and body to function with maximum effectiveness. This leads to good health and longevity.
Meditation is an intensely personal and spiritual experience. The desired purpose of each meditation technique is to channel normal waking consciousness into a more positive direction by totally transforming one`s state of mind. To meditate is to turn inwards, to concentrate on the inner self. By relaxing the body and calming the mind we bring about physiological changes that allows us to heal ourselves using only the unique powers of our bodies and our minds.
The entire process of meditation usually entails the three stages of concentration, meditation and enlightenment or absorption. The meditator starts off by concentrating on a certain point. Once attention gets engaged, concentration turns into meditation. And through continuous meditation, the meditator merges with the object of concentration, which might either be the present moment or the Divine Entity.
Some of the more popular methods of meditation developed are,Sahaja Yoga meditation by shri Mata Nirmala Devi, Transcendental Meditation by Maharishi Yogi,Raja Yoga Meditation developed by Brahma Kumari, yoga nidra, vipassana and mindfulness meditation.
Meditation can help us to cultivate a real abiding happiness. Meditation allows us to be in tune with our inner self. When we live in the heart we can experience a sense of oneness with others, this brings a happiness that does not depend upon outer events.
People like to experience more inner peace in their lives; at times peace feels an elusive quality because our lives are so hectic. Meditation teaches us how to switch off from the noise of the mind, we no longer give importance to the teeming thoughts which fly through our mind. Through meditation we can gain a clear state of mind; this is the secret of feeling a real inner peace.
There have been numerous studies showing a link between meditation and improved physical health. Meditation is a practical solution to relieve stress. When we relieve stress we help to reduce our blood pressure and heart related diseases.
Meditation helps to simplify our lives. When we live in the mind we can feel life is nothing but teeming problems and worries. Through learning to meditate we find we can get joy from appreciating the simplicity of life