Blessingsonthenet.com culture section features various aspects of India culture, indian philosophy ,puja & rituals, customs, traditions, ceremonies, arts, dance, music, architecture,Hindu Mythology, god and goddesses, Sanint and sages and Indian rivers.
Spirituality - Holistic Healing -Wellness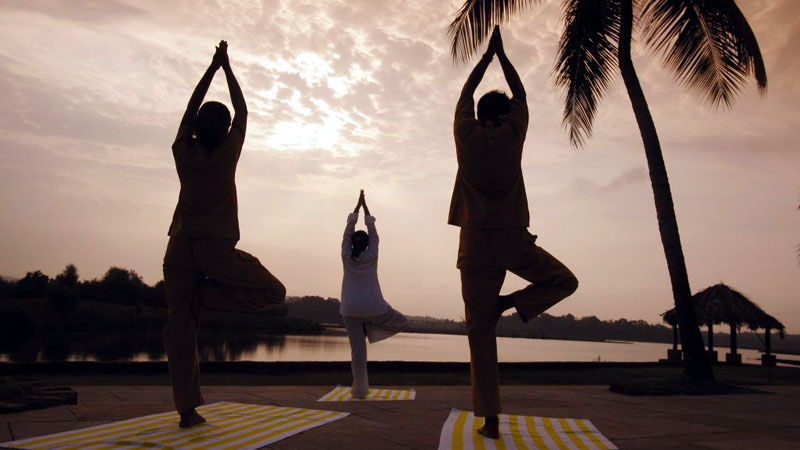 Yoga was recognized and evolved by the ancient seers and rishis of India, primarily as a tool for spiritual upliftment. Yoga has always existed, in its multifold aspects, as a part of Sanaatana Dharma (the ancient Indian way of life), and will continue to survive till eternity. Yogas outstanding attributes are its flexibility, its versatility, and its unlimited scope to cater to the requirements of every human temperament.

Yoga originated in ancient India and is one of the longest surviving philosophical systems in the world. Some scholars have estimated that yoga is as old as 5,000 years; artifacts detailing yoga postures have been found in India from over 3000 B.C.
Yoga masters (yogis) claim that it is a highly developed science of healthy living that has been tested and perfected for all these years.
Yoga stretches are used by physical therapists and professional sports teams, and the benefits of yoga are being touted by movie stars and Fortune 500 executives. Many prestigious schools of medicine have studied and introduced yoga techniques as proven therapies for illness and stress. Some medical schools, like UCLA, even offer yoga classes as part of their physician training program.

Classical yoga is separated into eight limbs, each a part of the complete system for mental, physical and spiritual well-being. Four of the limbs deal with mental and physical exercises designed to bring the mind in tune with the body. The other four deal with different stages of meditation. There are six major types of yoga, all with the same goals of health and harmony but with varying techniques: hatha, raja, karma, bhakti, jnana, and tantra yoga. Hatha yoga is the most commonly practiced branch of yoga in America, and it is a highly developed system of nearly 200 physical postures, movements and breathing techniques designed to tune the body to its optimal health.
The yoga philosophy believes the breath to be the most important facet of health, as the breath is the largest source of prana, or life force, and hatha yoga utilizes pranayama, which literally means the science or control of breathing. Hatha yoga was originally developed as a system to make the body strong and healthy enough to enable mental awareness and spiritual enlightenment.
There are several different schools of hatha yoga; the two most prevalent ones are Iyengar and ashtanga yoga. Iyengar yoga was founded by B.K.S. Iyengar, who is widely considered as one of the great living innovators of yoga. Iyengar yoga puts strict emphasis on form and alignment, and uses traditional hatha yoga techniques in new manners and sequences. Iyengar yoga can be good for physical therapy because it allows the use of props like straps and blocks to make it easier for some people to get into the yoga postures.
Ashtanga yoga can be a more vigorous routine, using a flowing and dance-like sequence of hatha postures to generate body heat, which purifies the body through sweating and deep breathing.The other types of yoga show some of the remaining ideas which permeate yoga.
Raja yoga strives to bring about mental clarity and discipline through meditation, simplicity, and non-attachment to worldly things and desires.
Karma yoga emphasizes charity, service to others, non-aggression and non-harming as means to awareness and peace. Bhakti yoga is the path of devotion and love of God, or Universal Spirit.
Jnana yoga is the practice and development of knowledge and wisdom. Finally, tantra yoga is the path of self-awareness through religious rituals, including awareness of sexuality as sacred and vital.
A typical hatha yoga routine consists of a sequence of physical poses, or asanas, and the sequence is designed to work all parts of the body, with particular emphasis on making the spine supple and healthy and increasing circulation. Hatha yoga asanas utilize three basic movements: forward bends, backward bends, and twisting motions. Each asana is named for a common thing it resembles, like the sun salutation, cobra, locust, plough, bow, eagle, tree, and the head to knee pose, to name a few. Each pose has steps for entering and exiting it, and each posture requires proper form and alignment. A pose is held for some time,depending on its level of difficulty and one's strength and stamina, and the practitioner is also usually aware of when to inhale and exhale at certain points in each posture, as breathing properly is another fundamental aspect of yoga. Breathing should be deep and through the nose. Mental concentration in each position is also very important, which improves awareness, poise and posture. During a yoga routine there is often a position in which to perform meditation, if deep relaxation is one of the goals of the sequence.
Yoga routines can take anywhere from 20 minutes to two or more hours, with one hour being a good time investment to perform a sequence of postures and a meditation. Some yoga routines, depending on the teacher and school, can be as strenuous as the most difficult workout, and some routines merely stretch and align the body while the breath and heart rate are kept slow and steady.
Yoga achieves its best results when it is practiced as a daily discipline, and yoga can be a life-long exercise routine, offering deeper and more challenging positions as a practitioner becomes more adept. The basic positions can increase a person's strength, flexibility and sense of well-being almost immediately, but it can take years to perfect and deepen them, which is an appealing and stimulating aspect of yoga for many.
Yoga is usually best learned from a yoga teacher or physical therapist, but yoga is simple enough that one can learn the basics from good books on the subject, which are plentiful. Yoga classes are generally inexpensive, averaging around 10 dollars per class, and students can learn basic postures in just a few classes. Many YMCAs, colleges, and community health organizations offer beginning yoga classes as well, often for nominal fees.